Yeah so I;ll update you guys on a few hings. My new plan is actaully coming along pretty well. I like not weighing myself everyday. I decided to let lose for a Halloween party on Saturday. I followed my diet all day but I knew i was going to drink that night. I sometimes over do it when I drink so i was attempting to not do my usual activity. The last time i drank was when Pat broke upwith me. I don't remember anything from the night and Nic took care of me, and now we're seeing each other so its kinda funny how that worked out. anyways before work on saturday I stopped my the liquor store and bought my drink of choice which was a bad idea. I went to the party with Nic and i drank the whole bottle of Jack by myself in under 20 mins. I don't remember everything but I am not gonna do that ever again because apparently I was stripping and biting people, and i even slapped Nic. I remember none of this. Apparently the slap story happened when Nic was holding me up cause I couldn't even sit up and someone was like "Lets play Never have I ever" and I said "I love that game! Never have I ever SLAPPED a guy!" and hit him as hard as I could. Everyone in the house heard it and he fell down. I feel soooo bad. anyways that was an embaressing night i am sure, so Nic asked me not to drink liquor any more and I agreed that it would probably be a good idea since I don't know when to stop. oh well, we learn from our mistakes right?
heres some pics in my costume. Its so funny I have changed so much in the past year. a Year ago Iwouldn't have even gone to a party!!
I am a nurse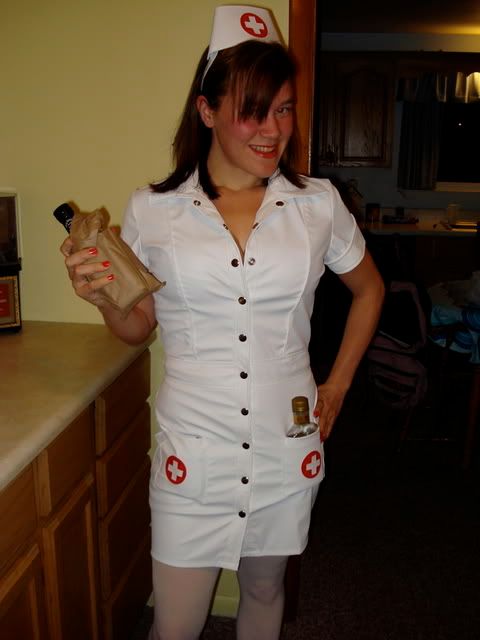 This is Me ry and laura attempting the shocker, which by that staement alone you can tell I have been drinking.
My friend jess and I...I wasn't that badyet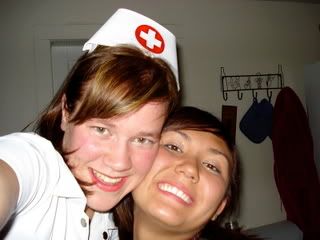 Andy, me, and Jess..Obviously all gone...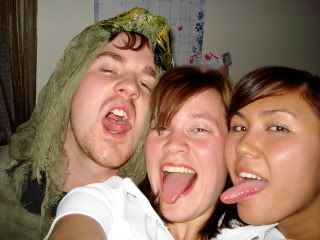 haha my fav pic of the night, Me ry and courtney. I look like I am in heaven!